Many people dream of the beauty of white, soft and fluffy snow, but yet there are those who are suffering from the cold harsh winter. 
Dana Wakaf Sistem Air (DWAS)
#SetitisHarapan
Water is a basic need that is so important for humans, animals, and plants. Based on some research, humans can live without food for more than a week, but our body system can only survive without water for about three or four days. In some cases, dehydration can happen earlier than expected.
Water also an essential source in generating various economic fields such as agriculture, industrial, fisheries, and electricity generation.
Thus, we need to appreciate our water sources to preserve that it is always clean and safe to use.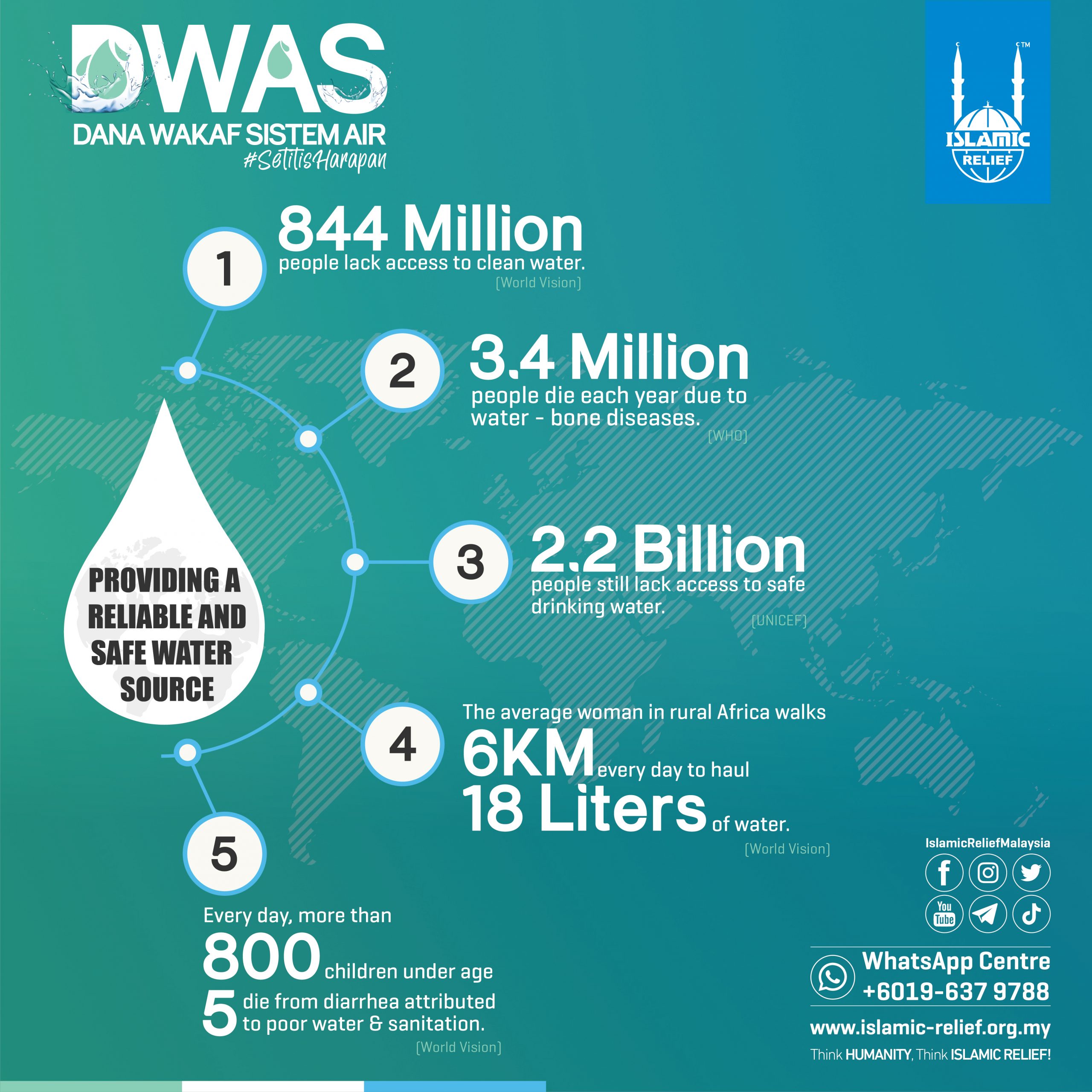 What Do We Live For?
We Need To Make Other People's Lives Less Difficult.
Realizing there is a huge impact caused by lack of clean water resources, Islamic Relief Malaysia proactively launches Dana Wakaf Sistem Air (DWAS) campaign in conjunction with World Water Day 2021 celebrated on 22 March to build clean water resources in three countries, consisting of Somalia, Bangladesh, and Indonesia, under the water, sanitation, and hygiene (WASH) sector.
This project aims to collect RM1.4 million to support five projects. The campaign duration started from 22 March 2021 to 31 December 2021.
SOMALIA
As we know, Somalia is one of the countries in the Africa continent facing drought and dry land. According to UNICEF, more than 50 percent of Somalia's population does not have access to water resources. Their situation is very critical because they are also threatened by famine and other conflicts.
On average, every day, women living in rural Africa have to walk 6 kilometers, hauling 18 liters of water for daily use. Due to that, most children need to sacrifice their education or being out of school.
Over the past three years, more than 900 Somalis, mostly children under the age of five, have reportedly died from cholera. Water-borne diseases in Somalia also cause children to suffer from diarrhea and malnutrition.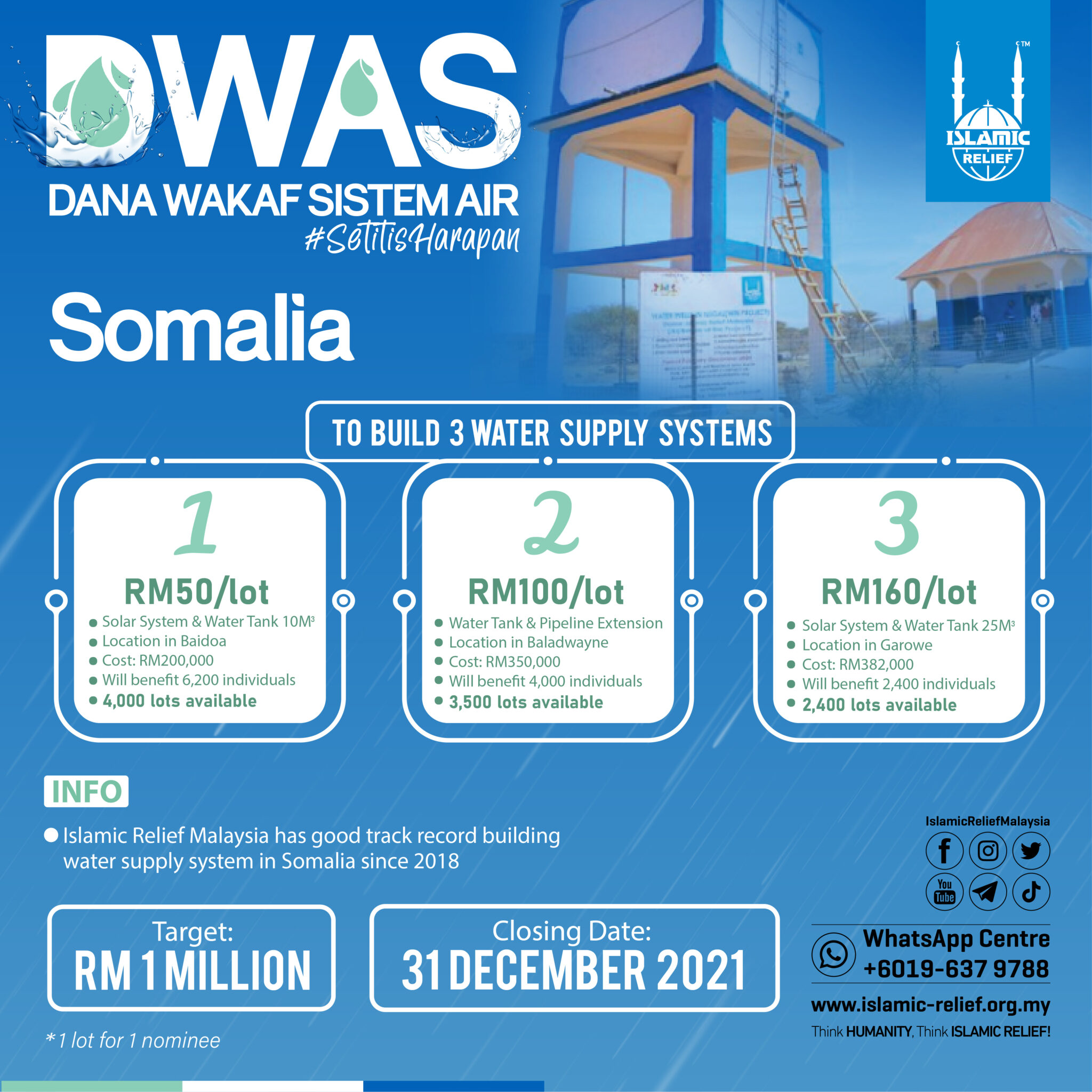 BANGLADESH
Access to clean and safe water resources in Bangladesh is still at a low level. 4.9 million people still do not have clean water close to homes, while 85.6 million people do not have a decent toilet of their own.
Meanwhile, the water source areas have a high content of arsenic, hard soil, and rocks. The threat of arsenic can lead to liver cancer, kidney disease, bladder and skin problems, and heart disease.
In addition, more than 40 percent of these water sources are also contaminated with the E. coli virus, which can cause diarrhea, cholera, and dysentery.
Even they knew the effects and impacts of using polluted water, they still need to use it as they have no other options. Poverty has forced 73 million people to use contaminated water for daily use.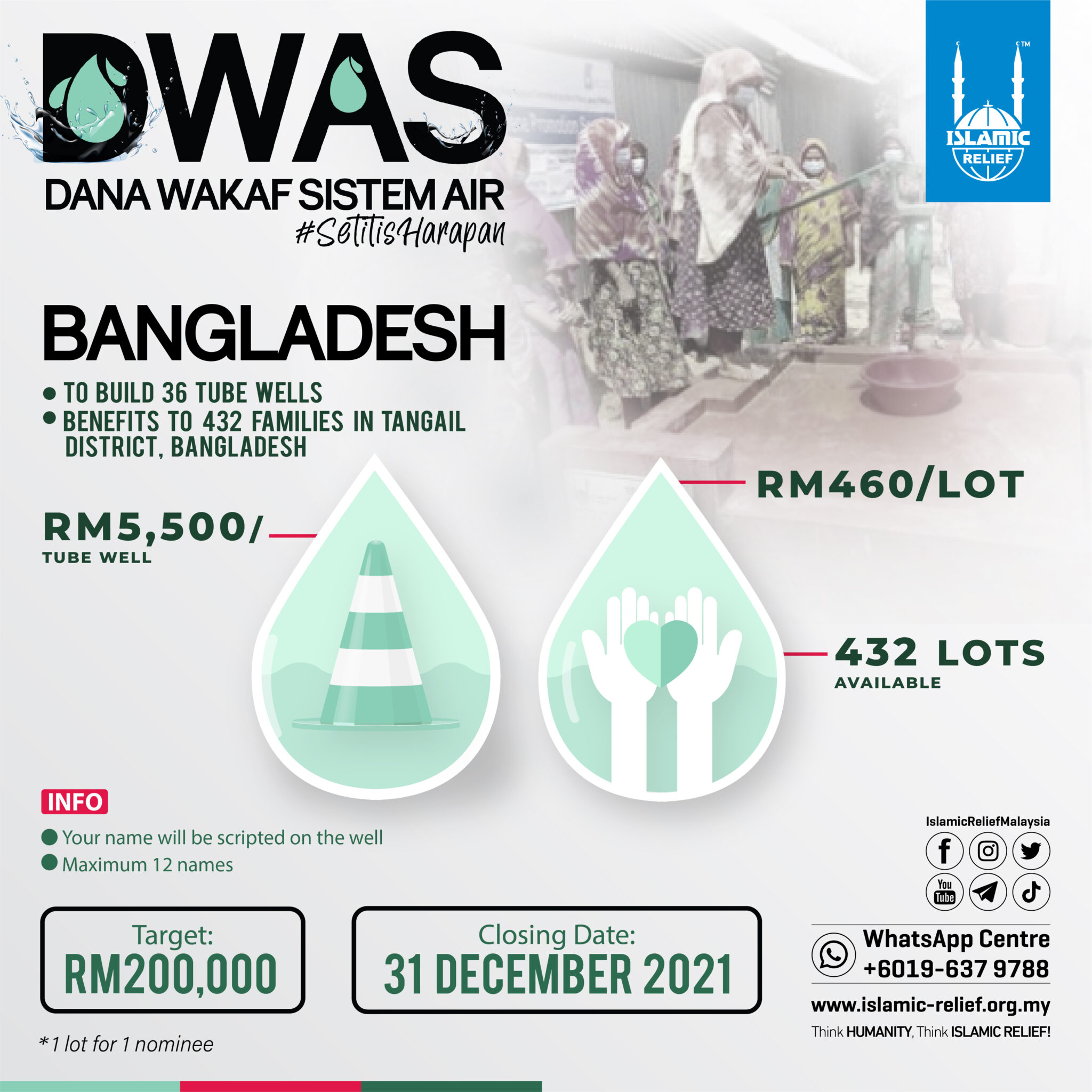 INDONESIA
According to the World Bank, Indonesia is still far behind in the water, sanitation, and hygiene facilities compared to the Philippines and Vietnam, even though the per capita income of both countries is much lower than Indonesia.
The quality of water available in the country is also very low. Only 7 percent of wastewater is treated.
Besides, almost 25 million Indonesians do not use toilets and still practice open defecation. It makes water sources polluted and causes diarrhea.
Hopefully, with the Dana Wakaf Sistem Air (DWAS) project in these three countries, it can ease the burden, save lives, and provide a comfortable life for them.